How do you fancy 'surfing' a wave that's around 240km from the nearest ocean?
Take a trip to Wave Rock and give it a go! Enjoy the view from the top of the rock or explore the surrounding areas by hiking a trail, but make sure you visit this amazing rock formation and learn how it formed over millions of years.
---
What Is Wave Rock?

Wave Rock is 15 meters high and almost 100 metres long. The face of Wave Rock appears ready to crash onto a pre-historic surf, frozen in time...
The site is located around 4 hours drive to the east of Perth situated in the Wheatbelt region of the Golden Outback, Western Australia. The journey takes you through farmlands and sprawling fields of canola and wheat.
The unusual rock has been formed over millions of years and more than 100,000 people make the journey to see it each year.
Named Katter Kich by the local indigenous people the Ballardong (part of the Noongar people), the rock has been somewhere of significance for them for thousands of years and it was traditionally used as a meeting and dancing place.
Wave Rock is a slightly misleading name as the formation is actually the north cliff-face of a hill named Hyden Rock. Hyden rock is known as a granite inselburg which is a German term translated as 'island hill'. A better definition for it could be that it is a 'steep-sided isolated hill rising relatively abruptly above gently sloping ground'. In this way, Hyden Rock is the same as the Australian monolith Uluru.
The granite cliff face of Wave Rock gives the illusion of a giant wave breaking on the shore where it curves inwards and then back out again. It stands at an immense 15 metres high and 110 metres long and technically it is called a 'flared slope'. Although there are other examples of these rocks in Australia, this is probably the most impressive.
To add to the illusion of waves, stripes of colour mark the rock giving the look of running water - a mixture of red, orange, ochre, yellow, brown and grey.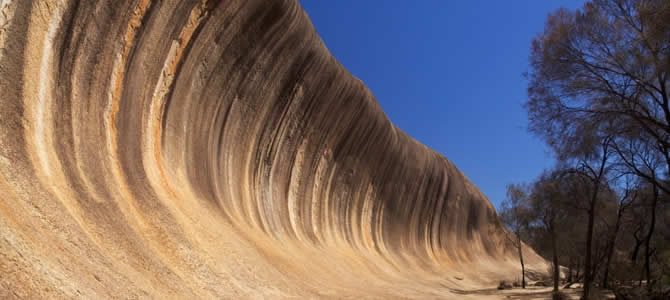 ---
A Brief History Of Wave Rock

Hyden Rock, which Wave Rock is part of, is around 2.7 billion years old and has three granite domes that appeared due to underground weathering approximately 100 to 130 million years ago. The rock is of a mixed texture (both medium and coarse grained) porphyritic (meaning it contains crystals that you can see) granite which is a very hard material.
The formation of the cliff face of Wave Rock occurred by millions of years worth of erosion and weathering by wind and water and chemicals undercutting the bottom, leaving the curved overhang that we see now.
The top part of the rock became exposed around 60 million years ago and consequently when the rains fell, they ran down the rock and seeped underground around it. The chemicals in the rainwater broke down the rock at the bottom to form the distinctive shape and then subsequent erosion of the land around it allowed it to be exposed.
The colourful stripes seen on the rock are also caused by a reaction with the rainwater which dissolves chemicals in the granite and then redeposits them as it runs down. Typically these are carbonates and iron hydroxide along with other chemical compounds.
---

Key Features

Wave Rock is a good stop off point for those travelling from Perth to Esperance.
There are a number of walks, to take in the rock and its features, which are of varying length:
The Wave Rock Walk - Starting in the car park and going directly to Wave Rock, this trail passes along the rock formation to the western end near the old quarry site. This trail loop (from and back to the main car park) is 650 metres in total.
The Hyden Rock Walk - Following the Wave Rock Walk primarily there are stairs near the old quarry site which follows a trail onto the top of Hyden Rock itself. There is then the choice of following two loops. The first loop is 860 metres (total) whilst the second is 1300 metres (total). Both return to the main car park.
The Breakers Trail - Following the Wave Rock Walk primarily this trail diverts west at the old quarry to follow along the foot of the rock to Breakers Picnic area. This trail loop (from and back to the main car park) is 1350 metres in total.
The Hippo's Yawn Loop - Following the Wave Rock Walk up until reaching the rock, this trail then heads east following the foot of the rock until it reaches the Hippo's Yawn rock formation. It then follows part of the Wave Rock Walk Circuit back to the car park. This trail loop is 1710 metres in total.
The Wave Rock Walk Circuit - Following the trail from the car park directly to the Hippo's Yawn it then heads north through the salt lake landscape, up towards Lake Magic, then looping back to the car park. This trail loop is 3600 metres in total.
Here are a few other travel tips to help you get the most out of your visit.
While you're at Wave Rock, don't miss the Hippo's Yawn. This is another rock feature of Hyden rock and is a shallow cave with an outer rock which closely resembles the yawning mouth of a hippo.
Western Australia wildflowers are in bloom in August/September (late winter/early spring) all around the area and making beautiful scenes of colour. Many species bloom here and make it a wildflower enthusiast's dream!
Check out the Wave Rock (or Hyden Rock) dam, located on the outcrop of rock on Hyden rock itself. A low wall runs around the top of the rock and diverts rainwater into the dam this was used as a large part of the town of Hyden's water supply up until the year 2000.
---
Fun Facts About Wave Rock
Wave Rock is made up of variably textured, medium and coarse-grained porphyritic granite (igneous rock with embedded crystals).
Fancy trying to 'surf' the wave? Someone has kindly left a surfboard at the rock as a prop to allow some imaginative pictures to be taken!
Although most of the stripes of colour on the rock are due to chemical reactions, the black/brown stripes are from discolouration from the algae that lives on the rock.
The rock is of cultural significance to the Ballardong people and they have a theory as to how the rock was formed. They believe that the Rainbow Serpent drank all the water in the land and then dragged her swollen body over it causing the shape of the rock to be formed.
The rock became a visitor attraction due to a photograph of it that was displayed at the New York International Fair. The photo won the Kodak International Colour Picture Competition (1963/1964) and brought the rock into the media spotlight and drew visitors from all over the world!
The name Hyden comes from a young sandalwood cutter (named Hyde) that camped out at Hippo's Yawn in the 1920's.
---
Wave Rock Visitor Information

Parking (car and coach) is a few minutes walk from the rock itself. You do need to pay for parking and this can be done at the kiosk (peak season) or by machine (off-peak). Cost for parking is $12AUD.
There are no fixed opening times at Wave Rock and therefore you can access the site at all times.
There are toilets at the parking area and also at Breaker's picnic area.
Picnic areas are located at Breaker's picnic area and Hippo's Yawn with some BBQs available for use.
An information point and a shop are located near the car park and also, along with a cafe, across the main road leading from Hyden.
To visit Wave Rock only, it is recommended to leave around 1-2 hours to explore. If further exploration is likely of Hyden Rock then the length of the trails available to follow are as above and this will allow for approximate calculation of time needed.
It is requested that there is no smoking on and around the rock visiting areas.
Care must be taken regarding what to wear - sensible shoes for walking and ascending the steps. Sun protection is also a must due to the location and typical weather of the area in the summer. In the winter a rain jacket or umbrella may be required.
Wearing fly nets (particularly in the summer season) are highly recommended to be worn when visiting, although if you do not bring one/forget they are available for purchase in the shop onsite.
Disabled access - the majority of the trails are flat and easy to walk with the longer Wave Rock circuit virtually flat with a wide smooth surface. Using a wheelchair on the paths can be a little rough however they are passable with occasional assistance (you would need to bring someone to help as this cannot be provided by anyone else onsite).
The exception regarding paths is the Hyden Rock Walk which takes visitors on to the top of the rock. The stairs to the summit do have a railing, however the ground can be quite uneven so this may not be suitable for all abilities.
Shaded seating areas are available at various points on the trails.
There are no limitations regarding photography and filming at Wave Rock.
---
Location
The full address of the rock is Wave Rock Road, Hyden, Western Australia, 6359.
It is located approximately 4 hours from both Perth (340km to the west) and Esperance (380km to the south-east). It falls within two named areas of this part of Western Australia - the Golden Outback and the Wheatbelt region. It is also located in the Shire of Kondinin.
The nearest town is Hyden which is around 5km away. Lake Magic is located to the north of the rock.
How To Get There
By Bus - There is a weekly bus service (provided by TransWA) that stops in Hyden. Perth to Esperance (Tuesdays - approximately 5hrs from Perth to Hyden) and Esperance to Perth (Thursdays - approximately 5hrs from Esperance to Hyden).
By Coach - There are a number of companies offering day trips to book travelling from Perth to visit Wave rock. To cut down on travel time there are also some companies that offer part of the journey by air and then by coach.
By Car - Travelling by car is a very popular choice and many people choose to visit Wave Rock as part of a stopover when travelling between destinations (often between Perth and Esperance). Travelling by car allows the freedom to take in other local highlights in the same visit and the journey to Wave Rock takes approximately 4 hours by road from either Perth or Esperance.
Alternatively a road trip can be planned and a common loop called the Pathways to Wave Rock can be followed. This takes three days to complete - starting in Perth to Hyden, then to Bruce Rock and finally heading back to Perth.
Once in Hyden the drive out to Wave rock takes approximately 5-10 minutes and there is also a sealed walk/bike path from the town to the rock (approx 5km).
---
Where To Stay
Although many people choose to visit Wave Rock on a day trip from Perth, the distances involved do make it a long and exhausting day! So if you have time, you may prefer to stay overnight.
Due to the proximity of Wave Rock to Hyden it is easy to drive or walk from the town and therefore you can make use of the accommodation there. There is not an enormous choice in where to stay, however there are hotels, motels and cottages available to choose from.
There are also a number of accommodation options close to the rock itself including a caravan park and camping (with a pool) within a short walking distance.
---
Other Things To Do Nearby

There are a few other attractions in the local vicinity to Wave Rock that can be explored by using Hyden as a central location to stay and visit from or as part of a road trip towards Perth or Esperance.
The Humps (another granite outcrop) and Mulka's cave (Bates cave) which is renowned for its traditional Aboriginal art and gnamma holes.
The Lace Place (museum)
The Miniature Soldier Museum
Lake Magic (head there for sunset and/or sunrise)
Wave Rock salt baths
Wave Rock wildlife park
Hyden Streetscape Art
Hyden swimming pool
Tin Horse Highway
Walker Hill Vineyard
Corrigin Dog Cemetery
There are also other famous tourist attractions in the wider region that you will definitely want to incorporate into your trip! Don't forget to visit these popular Wonders of Western Australia.
---
Frequently Asked Questions

What is Wave Rock made of?
Wave rock is composed by grey and red granite strips. According to geologists, the particular shape of the rock was formed by subsurface chemical weathering followed by removal of the soft weathered granite by fluvial erosion; this weathering occurred below ground level before it was exposed.
The colours of the rock were produced by the rain chemical deposits (carbonates and iron hydroxide) down the face, forming vertical stripes of greys reds and yellows. It is an interesting and sometimes jaw dropping spectacle to see how the rock changes its colors along the day, producing awesome views.
Is wave rock sedimentary, igneous or metamorphic?
Wave Rock is igneous rock with embedded crystals.
What is special about Wave Rock?
Wave Rock is special due to the unusual formation of the rock that makes it look like an ocean wave breaking. This has formed over 60 million years!
How far is Wave Rock from Perth?
Wave Rock is 340km from Perth which is around a 4 hour drive.
Do you have to pay to see Wave Rock?
You need to pay $12AUD when you park your car on site at Wave Rock however if you walk/cycle to it there is no entrance fee.
How is Wave Rock changing?
Wave Rock was formed over many millions of years through erosion by water, chemicals and wind and this change is still constantly happening albeit at a very slow rate.
How long do you need at Wave Rock?
To visit and explore Wave Rock only should take around 1-2 hours. There are a number of trails however that lead you to different parts of the main rock/other rock formations/to the surrounding salt lake and these will take longer to navigate.
How big is Wave Rock?
Wave Rock is 15 metres high and 110 metres long.
Does Wave Rock have any Aboriginal significance?
Wave Rock has been a place of significance for Aboriginal people for thousands of years. It was used as a dancing and meeting place for the Ballardong people (part of the Noongar).
What can people do at Wave Rock?
Visiting Wave Rock allows you to explore the rock formation itself and also there are a number of other walking trails to navigate. These take you up onto the main rock and to other rock formations and the salt lake. There is also a shop and cafe to visit nearby.
What is the closest town to Wave Rock?
The closest town to Wave Rock is Hyden which is approximately 5km away.
Can you climb Wave Rock?
You cannot climb the cliff face of Wave Rock itself, however, you are able to navigate up on the main part of the rock (called Hyden Rock) via steps off one of the named trails.
Is Wave Rock a national park?
No, Wave Rock is not a national park.
Can you take dogs to Wave Rock?
Yes, dogs can be taken to Wave Rock but they must be kept on a lead at all times.