Tiger Hill Pagoda or the Yunyan Pagoda is a Chinese pagoda situated outside Changmen, Suzhou City, Jiangsu Province.
The millennium old Tiger Hill Pagoda, also known as the Leaning Tower, stands on top of the Tiger Hill and is regarded as the symbol of Suzhou. Also it is called with its other names including Huqiu Tower, the Leaning Tower of China or The Yunyan Temple Tower.
The Tiger hill Pagoda has seven floors rising to a height of 48 meters. This octagonal building was built with blue bricks. That stone brackets provide decorative detail. There is no internal stairway to climb to the different levels.
The entire structure weighs some 6,000,000 kg, supported by internal brick columns. The tower leans roughly 3.5 degrees due to the cracking of two supporting columns.
The Tiger Hill Pagoda is the principal recreation of the popular Yuyan Temple, the night scene around it is beautiful because the area is decorated with excellent illumination of vivid colors. This added a great attraction in Suzhou night tour.
History
Tiger Hill Pagoda or Yunyan Pagoda standing on the hill's summit is part of the Yunyan Temple. As the oldest pagoda in Suzhou, it serves as a landmark of the city; it was built during the later period of the Five Dynasties (907-959) and completed by the second year of the Song Dynasty (959-961).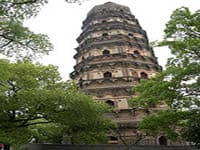 It was constructed earlier and taller than the Leaning Tower of Pisa. In the beginning it was built of wood, the structure of which was complicated, colorful and magnificent with unique style.
The height of the Tower is 48m, built by laying eight cornered bricks in seven storeys. In more than a thousand years the tower has gradually slanted due to forces of nature. It leans to the north by about 3.5 degrees.
In 1957, efforts were made to stabilize the tower and prevent further leaning. Concrete was also pumped into the soil forming a stronger foundation. During the reinforcement process, a stone casket containing Buddhist scriptures were found.
Also the tower was partially repaired in 1981 by the local government. Concrete piles have been driven into the ground around the pagoda in order to reinforce the foundation. Like many pagodas of the Tang and early Song periods, it is a stone imitation of contemporary wooden pagodas. The "brackets" and "lintels" carved on the surface are not structural, but decorative.
Today this 1000 year old pagoda has become a symbol of Suzhou. And it is listed as one of the special historical sites under State protection. The temple courtyard is the highest point on the hill and commands a grand view.